Diageo (NYSE:DEO) (OTCPK:DGEAF) is the biggest holding and distributor of alcoholic beverages. For instance, some of its more renowned brands are Johnnie Walker, Don Julio, Tanqueray, Guinness, Baileys, J&B, and Smirnoff. The overall sentiment about the consumer staples market isn't the best, and the stock underperformed the indexes this year. Nevertheless, I think that Diageo has a bright future ahead.
Business model
Diageo holds a large variety of brands, going from the lowest priced to the super-premium category.
Breaking down its sales by segments, we appreciate the variety. Spirits produce 79% of revenue, beers 15%, and "ready to drink" beverages only 4%. Moreover, scotch is the most sold in the spirits segment, generating 34% of spirits sales (page 12) and 25% of the total revenue. It is then followed by Tequila (13% of spirits sales), Other Whisky (11%), Vodka (10%), Liqueurs (7%), Rum (6%), Gin (5%), and Others (11%).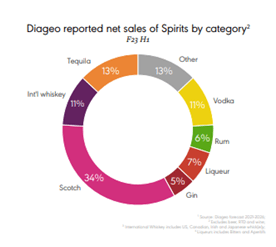 Furthermore, Diageo reports its sales by price segment too. Premium and super-premium beverages are the main segments, producing 63% of revenue, with standard and value drinks producing 37%.
Furthermore, Diageo's operations are fully integrated: they produce, package, distribute, and sell themselves, avoiding secondary parts and saving costs.
Sustainable growth runway through premiumization and M&A
Diageo achieved moderate and sustainable growth rates in the past. Revenues grew at 4% annually for the past ten years. Nevertheless, its growth has accelerated to a 7% annually for the last five years. Then, earnings grew 1.5% annually over the previous five years, surprisingly slower than revenues because of a tiny margin contraction and increased interest expenses. Still, Diageo buys back many shares each year, and EPS grew 3.5% annually. Finally, the 5-year FCF/Share CAGR sits at -2%, negatively affected by higher-than-average CNWC and increased CapEx.
Although these aren't outstanding growth rates, Diageo is well-positioned to grow higher than its historical growth rates while increasing its profitability.
Premiumization: increasing exposure to fast -growing premium segments
Diageo has geared its investments towards the fast-growing segments for the last few years. As shown in the image below, Tequila (13%) and Gin (10%) are expected to be the faster-growing segments, followed by Cognac. International Whiskey and Scotch are supposed to have decent growth too. These last two are essential company segments, but Tequila will be its main growth driver (page 12).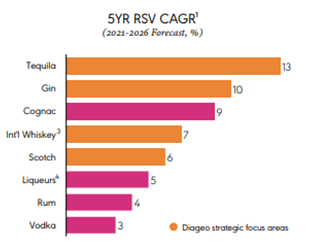 Indeed, Diageo distributes two of the best Tequila brands in the world: Don Julio and Casamigos (acquired in 2017). Thanks to those, Diageo has doubled its share in the US tequila market since 2019. Effectively, Diageo is well-positioned to keep growing in this segment. Furthermore, representing 12% of Diageo's revenues, it is a top-notch opportunity to boost the company's growth (page 14).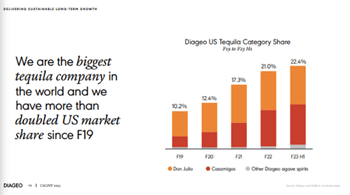 Not only are they investing in faster-growing segments, but they are also focusing on premium and super-premium beverages. Since 2017, premium and super-premium have increased their combined share in the spirits category from 47% to 57%. On the contrary, value and standard drinks have lost a lot of market share (page 11).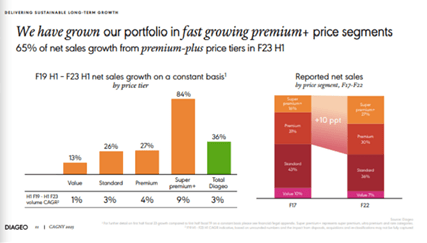 As a result, Diageo is increasing its exposure to premium segments, which are much more resilient and less cyclical, as well as increasing terminal value. In fact, Diageo leads the scotch whisky global market, the most premium international spirits category (page 10).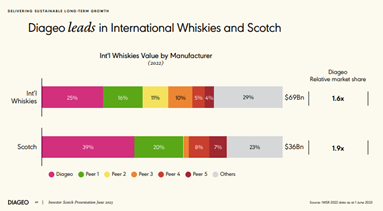 In addition, this increases pricing power, given that premium clients are less affected by price changes. For instance, Diageo has the best price/mix out of its peers and is progressively increasing, reflecting its pricing power.
Gaining market share in a highly fragmented market
The alcoholic beverages market is enormous. There are lots of different holdings and brands distributing its products. In 2020, Diageo had 4% of the market share while still being the market leader (page 6).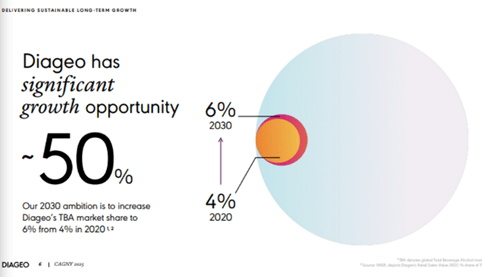 The company aims to grow its share by 50% to 6% in 2030. In 2023, with a 4.7% market share, Diageo has completed a third of the way. Therefore, its objective could be reached earlier. As I said before, Diageo focuses on the faster-growing segments, which implies growing faster than the market, thus gaining market share.
ROIC expansion through disciplined capital allocation
Furthermore, share can be gained through M&A too. In such a fragmented market, the leaders are in a privileged position to acquire other brands and grow inorganically.
The company aims to deliver sustainable long-term growth, generating good shareholder value. Diageo has increased its CapEx and inventories during the last two years to enable that long-term growth. Until 2025, the company expects to spend between £1B and £1.2B annually, representing around 5% of total sales. In addition, it is investing in brand reputation through R&D, resulting in higher growth and market share gains (page 25).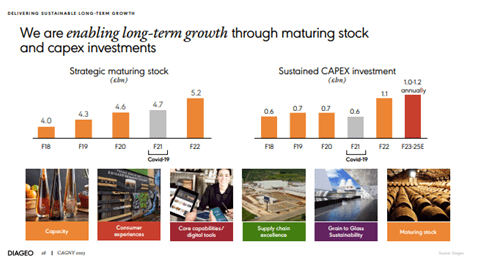 As I said before, M&A is an important source of growth. The company has a track record of acquiring companies, above all, those belonging to the fast-growing categories and disposing of slow-growing brands. For instance, Diageo acquired Casamigos in 2017 for $700M and $300M in variable fees. The brand generated around $3B of revenue in 2023, thus becoming a splendid success (page 26).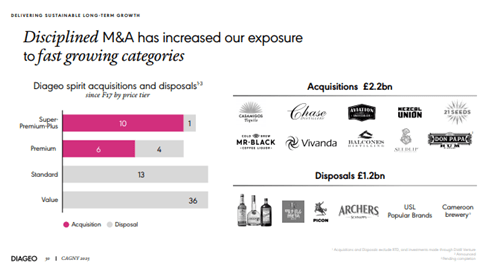 Its disciplined approach to capital allocation has driven a progressive increase in ROIC, from 13.8% in 2017 to 16.8% in 2022. However, ROIC has slightly reduced this year to 16.3%, primarily driven by higher working capital and CapEx. However, it isn't worrying at all, as the management invests for the long-term, and ROIC should get back to speed. Furthermore, higher ROIC implies higher valuation multiples, so increasing ROIC should be a great value driver (page 27).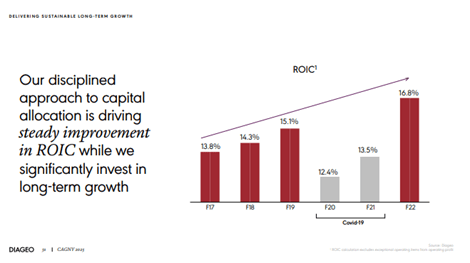 Finally, Diageo has a disciplined approach concerning productivity savings, efficiencies, and disciplined cost controls. Not only increases it the ROIC but it also helps with margin expansion. Since 2017 (excepting the Covid-19 years), Diageo has consistently grown its operating profit ahead of its revenue (page 23).
To sum up, the management's mid-term expectations are an organic revenue growth between 5% to 7% and an organic operating profit growth of 6 to 9% (page 31). In addition, those could be boosted by acquisitions, task in which the management has shown its talent.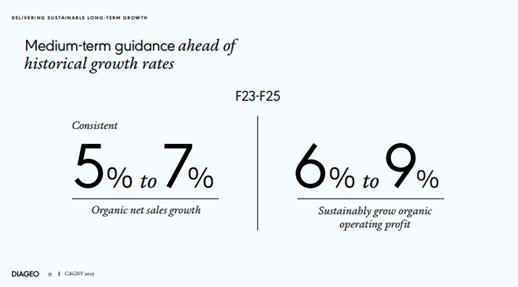 Strong competitive advantages
Drinking in excess can be dangerous. Therefore, in this market, brand reputation is a must, given that it gives confidence to the client and allows the company to get the required licenses, which Diageo takes advantage of.
Brand power: Diageo's brands are one of the most popular in each market. Gordon's, Cîroc, Crown Royal, and Ketel One are other unmentioned brands. In addition, Smirnoff, Johnnie Walker, and Gordon's are the world's best-selling Vodka, Scotch, and Gin. Many enthusiasts consider the Johnnie Walker Blue Label the best Whiskey in the world. It is also worth noting that Diageo has a 34% stake in "Moet Hennessy", which sells one of the best Cognacs and Champagnes.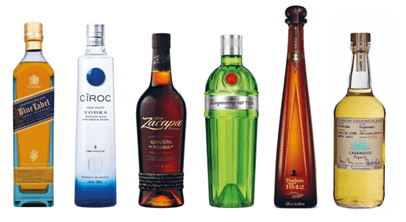 Barriers to entry: On the one hand, some spirits can only be made in certain regions. For example, Scotch can only be made in Scotland, and Tequila in certain Mexican regions. Once the lands are occupied, other players can't produce the products. On the other hand, spirits require much time to be made. For instance, Scotch or Tequila can need up to 10 years to age. Therefore, only big companies with stable cashflows can stand that aging period without selling.
Scale economics: Diageo's operations are fully integrated. They produce, package, distribute, and sell directly to the customer. This avoids having to hire other players, reducing costs and increasing margins.
International portfolio: Diageo is present in every continent, which gives them knowledge about the consumption tendencies in every territory. Having a broad portfolio, Diageo personalizes its offer for every continent. As a result, each region has better growth opportunities (page 10).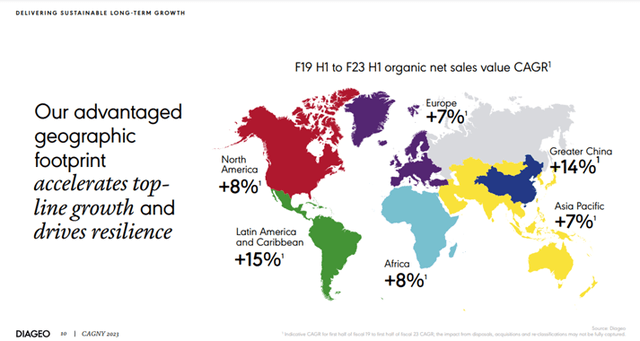 Management alignment isn't bad, but it could be better
In June, the company received terrible news. Its CEO passed away after 25 years in the company and ten as CEO. He created a fantastic culture, one reason for the company's success. Debra Crew replaced him. She is 52 years old and has three years of experience in the company (which isn't great), previously occupying roles such as COO.
80% of short-term incentives depend on net sales growth, operating profit growth, and operating cash conversion (great to see this one), equally weighted. Afterward, long-term incentives depend on 3-year net sales growth, relative TSR, cumulative FCF, and EBIT before exceptional items growth. I would like ROIC to appear in the variables. Nevertheless, the company is still focused on maximizing it.
The objective targets seem to be demanding. Indeed, this year, one threshold and one midpoint weren't attained. Long-term targets seem demanding too and in line with the company's mid-term objectives (page 130).

Moreover, the CEO's base salary is around $2M, but it can get up to $18.6M if her performance is top-drawer. Furthermore, most of her salary (71%) would depend on long-term incentives (page 136).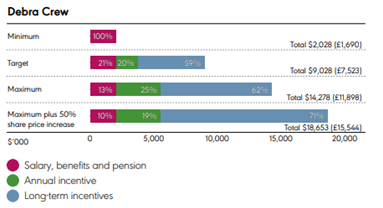 Finally, I would like insider ownership to be higher. Before his death, Ivan Menezes had 27x his salary in shares. However, the current CEO has 0.01x her salary in shares. However, she has that number must get to 5x before 2028 (quite a long time to be honest). At least, she will be encouraged to outperform by the high variable income she can earn.
Risks
In the alcoholic beverages business, companies are constantly exposed to possible regulations. More regulations in the market could harm Diageo, as well as an increase in taxes on alcoholic sales. Still, its reputation and premiumization protect it from possible new laws.
In addition, M&A is an important source of growth. High prices can endanger the business, reduce ROIC and increase leverage. Indeed, the company operates with high leverage, between 2.5x to 3x Net Debt/EBITDA, which is quite high. We must keep this in mind, as interest expenses have increased during the last few years. The average interest rate sits at around 4%. However, it could increase when the company refinances its debt in the future. Diageo's credit rating is A3 (Moody's) and A- (S&P), which is not bad for a high-leverage company. I would still like its debt to be lower.
Valuation
To value the company, I have done a 5-year DCF. I expect the company to grow its revenue at 6.5% and EBIT at 8% annually, including inorganic growth. Moreover, margins should increase. As exit margins, I assume a 29% EBIT margin (lower than five years ago), 34.5% EBITDA margin, and 23% FCF margin.
Then, I use a 10% required return rate and a 4.5% EV/FCF Yield as exit multiple (around 14.5x EV/EBITDA, below its 10-year median). As a result, I get a fair value of £33.2.
It is worth noting that the premiumization strategy is increasing the company's pricing power and resilience, thus growing its terminal value. If the company successfully continues its strategy, the terminal value will increase, implying a higher share value.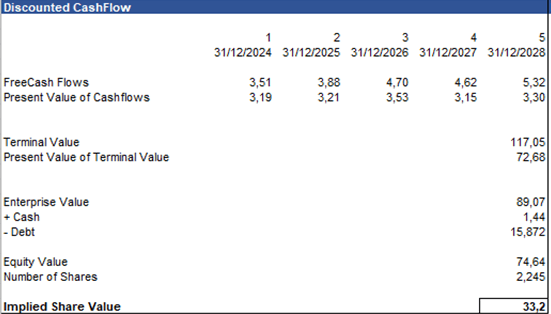 Conclusion
Diageo is a high-quality business following a remarkable strategy. The firm is improving greatly, focusing on fast-growing markets, becoming more resilient, increasing its pricing power, and pushing its terminal value up. The management has done a good job towards acquisitions, and even though the alignment isn't the best for the moment. At least, the salary targets are demanding and in line with shareholder demands.
Despite being such a great business, I rate the stock as a hold, as it currently trades at fair value. I would be keen on starting a small position if the share gets to £30 and building a higher one if it gets to £27.
I will keep an eye on it, looking after its debt and how its strategy goes on, given that a continued premiumisation would considerably increase its value.
Editor's Note: This article discusses one or more securities that do not trade on a major U.S. exchange. Please be aware of the risks associated with these stocks.