Investment Thesis: Carrefour SA could see further growth going forward, on the basis of continually strong growth in e-commerce sales.
In a previous article back in February, I made the argument that Carrefour SA (OTCPK:CRRFY) could see significant growth going forward, on the basis of strong growth in e-commerce sales as well as a strong P/E ratio.
Since then, the stock has descended slightly to a price of $3.77 at the time of writing: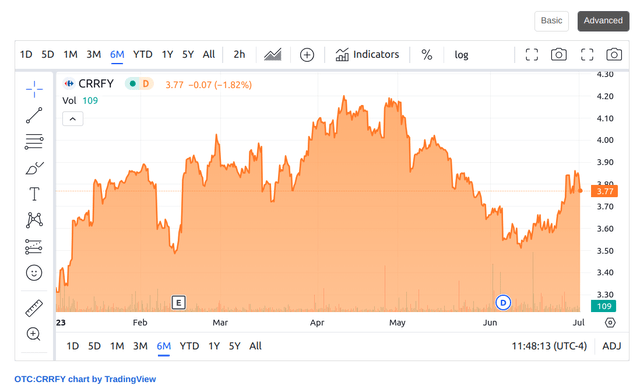 The purpose of this article is to assess whether Carrefour SA has the ability to see continued growth from here taking recent performance into consideration.
Performance: Like-for-like sales and e-commerce growth
When looking at Q1 2023 financial results for Carrefour SA, we can see that group like-for-like sales (which excludes sales from stores that have opened or closed over the period) is up by 12.3% since the same quarter last year.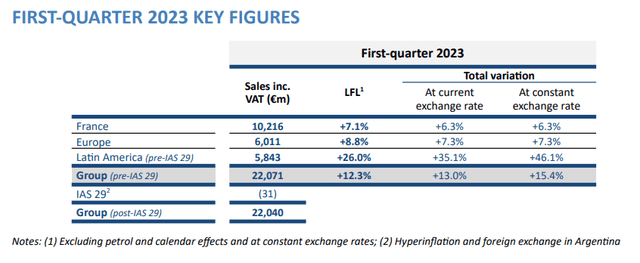 From a longer-term standpoint, we can see that like-for-like sales on a quarterly basis have been accelerating significantly in the last three quarters: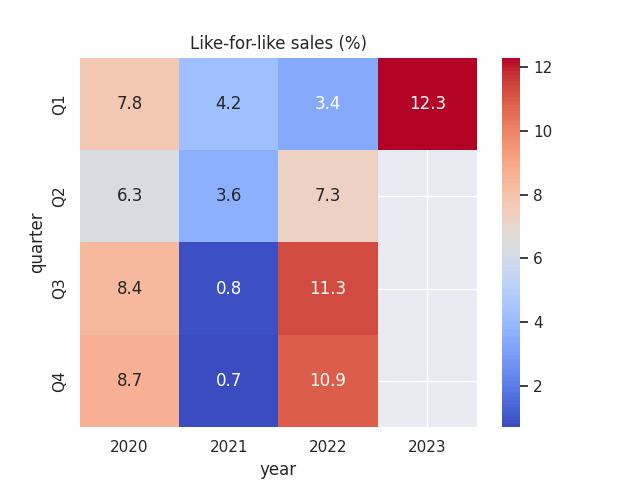 While these figures are likely to be (at least partly) reflecting the effects of inflation and higher food prices, volume growth remained impressive for Carrefour – with 560,000 new customers gained during the quarter.
GMV (or gross merchandise value) was up by 26% for e-commerce – which was driven by the Brazilian and French markets.
Carrefour had originally set a target in 2021 to triple its growth in e-commerce by 2026 and become a global leader in digital retail.
Over the course of a year, e-commerce GMV is up from €3.3 billion at the end of 2021 to €4.2 billion at the end of 2022 – which represents growth of 27% over the period. If Carrefour were to sustain this rate of growth in e-commerce GMV through to 2026, then the company would reach just under €11 billion GMV at the end of this period – in excess of the €10 billion target that the company has set for that year.
As it stands, a significant portion of growth in e-commerce GMV is coming from the Brazilian market. Back in Q3 2022, Brazilian supermarket chain Atacadão had heavily ramped-up food e-commerce sales – with GMV up by 131% for that quarter and with cash and carry now accounting for almost 50% of food e-commerce in Brazil. While down from the triple-digit growth that we saw over this period, e-commerce GMV was still up by 43% for Brazil in the most recent quarter – thanks to both the growth of Atacadão's online business and the integration of Grupo BIG.
From an earnings standpoint, Carrefour has been seeing its P/E ratio decreasing near levels seen at its 10-year low – while earnings per share has been approaching a 10-year high: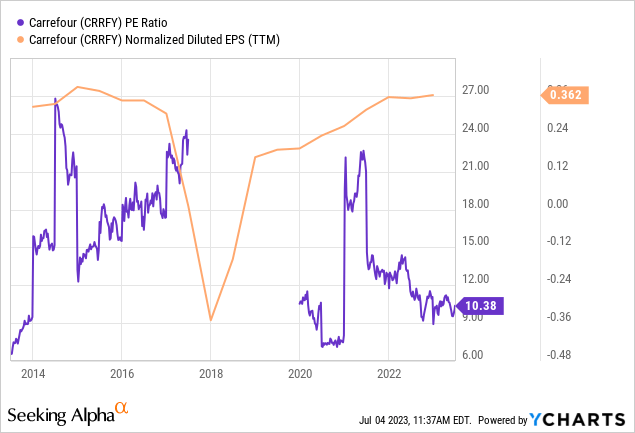 It could be the case that despite of the growth Carrefour has seen across e-commerce – the stock remains unappreciated relative to larger companies in the industry such as Walmart (WMT) – which is trading at a significantly higher P/E ratio: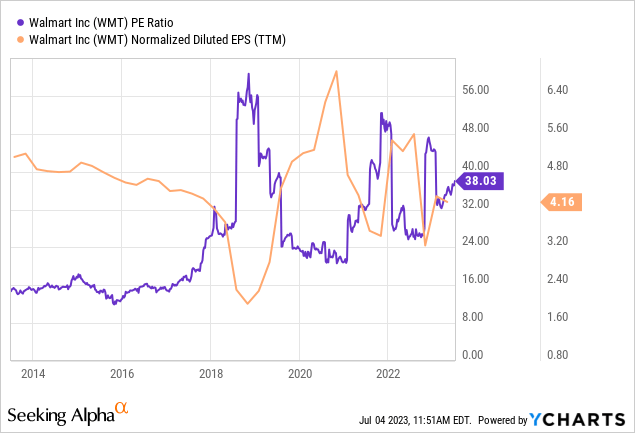 In this regard, it is possible that continued growth in e-commerce could mean that investors increasingly recognize the growing dominance of Carrefour in this space across the French and Latin American markets going forward – and we could see interest in the stock rise accordingly.
Balance sheet
With regard to short-term liquidity, we can see that the quick ratio of Carrefour SA (calculated as total current assets less inventories less prepaid expenses all over total current liabilities) has increased since last year – albeit with the ratio remaining below 1 – indicating that Carrefour does not have sufficient liquid assets to service its current liabilities.
| | | |
| --- | --- | --- |
| | Dec 2021 | Dec 2022 |
| Total current assets | 17785 | 23884 |
| Inventories | 5858 | 6893 |
| Prepaid expenses | 476 | 419 |
| Current liabilities | 22150 | 26907 |
| Quick ratio | 0.52 | 0.62 |
Source: Figures sourced from Carrefour 2022 Consolidated Financial Statements – quick ratio calculated by author.
The company's long-term borrowings to total assets ratio has increased slightly over the year – but remains modest at 12%:
| | | |
| --- | --- | --- |
| | Dec 2021 | Dec 2022 |
| Borrowings – portion more than one year | 5491 | 6912 |
| Total assets | 47668 | 56551 |
| Long-term borrowings to assets ratio | 11.52% | 12.22% |
Source: Figures sourced from Carrefour 2022 Consolidated Financial Statements – long-term borrowings to assets ratio calculated by author.
From this standpoint, I take the view that while continued growth in e-commerce and like-for-like sales is encouraging and could lead to further growth in the stock – this is more likely to be the case if we also see an improvement in Carrefour's overall cash position which would be evidenced by an increasing quick ratio.
Risks
Going forward, I take the view that the main risk to Carrefour at this time is a slowing down of e-commerce growth. We have seen that while like-for-like sales have been increasing – this has at least partially been driven by inflationary trends.
The Brazilian market has been a significant driver of the overall growth in e-commerce. It is reported that the Brazilian economy is set to revise its 2023 growth forecast upwards yet again on the basis of higher growth prospects. While this is encouraging and could help fuel further growth for Carrefour across this region – a deterioration of economic activity or stubbornly high inflation could change the economic landscape and significantly weaken the growth that we have been seeing in e-commerce.
Moreover, while overall e-commerce growth to date has been impressive – there will come a point at which growth will start to plateau. Should we see this happen significantly in advance of 2026, then this may cast doubt in the minds of investors as to whether Carrefour can reach its target of €10 billion in e-commerce sales by 2026.
Conclusion
To conclude, Carrefour has continued to show strong growth in both e-commerce and like-for-like sales. While risks remain with respect to the broader macroeconomic picture – I take the view that the stock is potentially being undervalued relative to its performance at this time. I take a bullish view on Carrefour SA.
Editor's Note: This article discusses one or more securities that do not trade on a major U.S. exchange. Please be aware of the risks associated with these stocks.